Seguin Moreau
Oak Barrels and Oak Products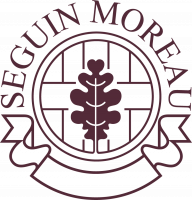 About Us
THE BEST OF THE OAK
- The strictest specifications in the world.
100% of French Haute Futaie oak comes from the French national forests.
- A team of specialists: 3 qualified buyers and a team dedicated to checking the rough staves piece by piece.
-An exclusive seasoning process: proactive maturation.
By creating homogenous and constant conditions of maturation, SEGUIN MOREAU ensures that it can reproduce the physio-chemical transformation of the oak.
- Commitment to sustainable forest management
The first cooperage in the world to be certified PEFC.
Through its partnership with the O.N.F. (French Forestry Commission) the cooperage supports the replanting of the national forests of Braconne and Vierzon.
THE SKILL OF THE COOPER
- Respecting the raw material
Only split wood is used in SEGUIN MOREAU's barrel making process: using straight fiber guarantees that the barrels remain watertight.
- Attention to detail
SEGUIN MOREAU pays close attention to the details which contribute to the precision and quality of its barrels. Modern technology has adapted itself to safeguard the benefits which have been confirmed by experience.
- Passing on its savoir faire
SEGUIN MOREAU is constantly training apprentice coopers, thus ensuring it has the necessary skills at its disposal for the future.
- An exceptional standard of finish, faithful to tradition
SEGUIN MOREAU's barrels are not only esthetically pleasing, but they also have practical aspects which give the barrels solidity and long life: firmly fixed head and bar, chestnut hoops placed according to the rules, clear, personalized laser marking.
INVENTOR OF BOUSINAGE
SEGUIN MOREAU is the first cooperage to have understood the importance of differentiating between the firing of the barrel at the tightening stage, and the oenological toasting of the barrel: the 'bousinage'
A HIGHLY DIVERSE RANGE SUPPORTED BY EXTRAORDINARY OENOLOGICAL EXPERTISE
SEGUIN MOREAU offers an unequalled range of combinations of wood/toasting/process. With the advice of our team of experts, our customers have truly oenological instruments at their disposal. Prepared to measure and controlled at every stage of the process, they give to winemakers the world over a wide choice enabling them to produce wines which live up to their image.
THE BRAND CHOSEN BY THE GREATEST WINES OF THE WORLD
Our prestigious references are the guarantee of our success. Our ambition: To continue to play an active part in their achievements.