Cooperages 1912 Australia
Premium Oak Wine Barrel Supplier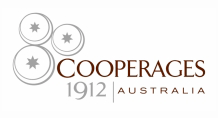 Javascript is required to view this map.
59 Basedow Road
TANUNDA
,
SA
,
5353
Australia
View Map
About Us
Cooperages 1912 proudly markets and distributes barrels under the brands Tonnellerie Quintessence, Tonnellerie Tremeaux, Heinrich and World Cooperage. Focusing on the Australian market, our commitment is to provide our customers with the highest quality service and oak barrels available in the industry.
Located in the famous Barossa Valley, Cooperages 1912 is the Australia division of a fourth generation family owned company serving wineries throughout the world. Our sales team consults directly with winemakers to ensure proper pairing between wine and barrel.
From day one, we've emphasized that quality customer service is our priority. With every barrel we sell, our goal is to give each winery the personal service it deserves. From the moment we answer your call, we make every effort to ensure your experience with Cooperages 1912 is enjoyable and convenient.
Our sales representatives go through extensive training at the cooperage so they can assist you with every facet of our barrels and oak products. They are knowledgeable in both wine and barrel making, and they'll be happy to advise you on product features and answer any questions.
Quality is the hallmark of everything we do. So, too, is value. Our sales force continually works to understand our customers' changing needs, and then meets those needs with innovative products that are affordable to the greatest number of wineries.