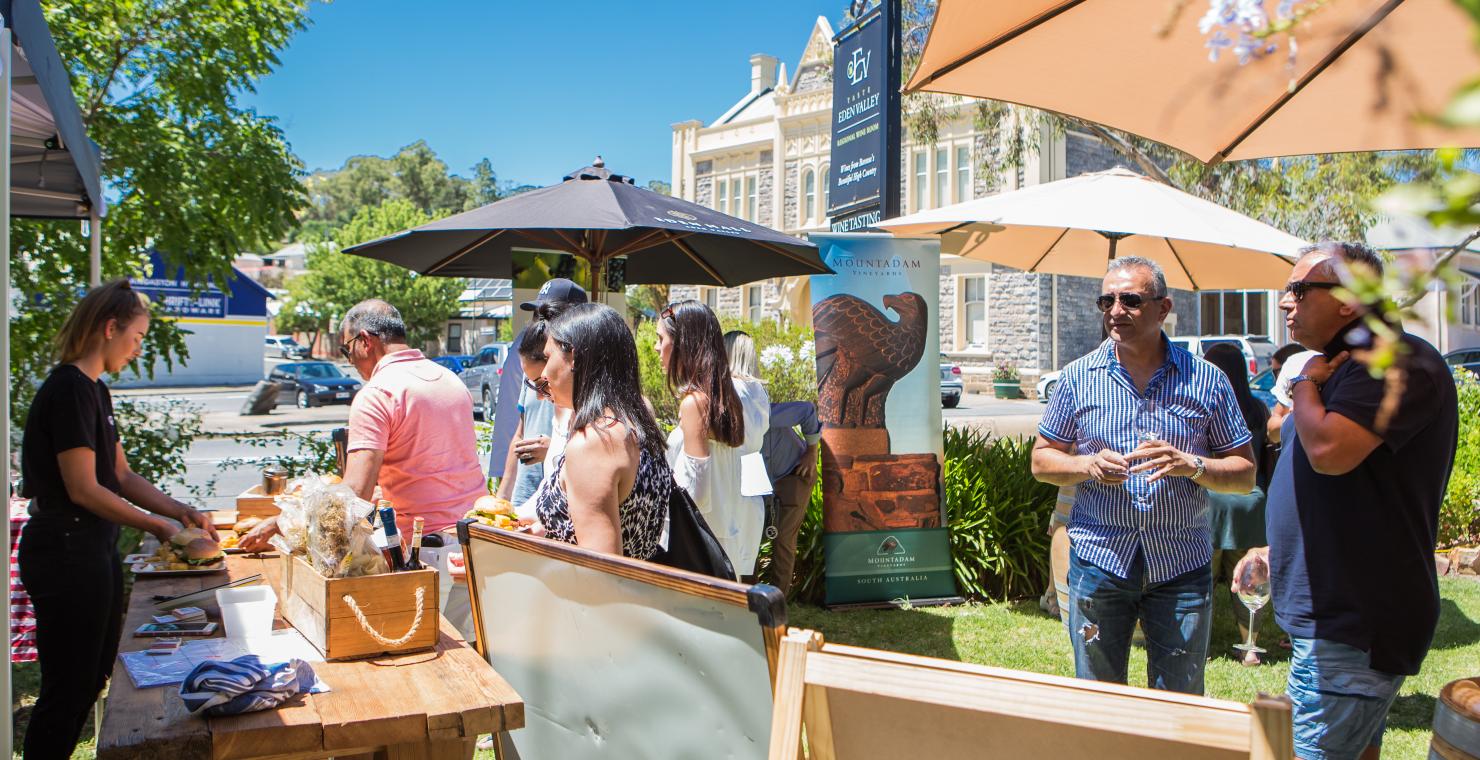 Wine Industry IMPACT Conference – Making A Direct IMPACT!
8:00am Thursday, 18 October 2018
5:00pm Thursday, 18 October 2018
Hotel Grand Chancellor
65 Hindley Street
Adelaide
,
South Australia
5000
Australia
About the Conference
The inaugural Australian Wine Industry Impact Conference will be held in Adelaide on Thursday 18 October 2018 at the Grand Chancellor Hotel.
The conference theme, 'Making a Direct Impact', reflects the increasingly significant role of direct sales on the profitability of Australian wineries and the importance of learning about this vital channel.
Hosted by Wine Industry Suppliers Australia (WISA), the conference will bring together 18 international and local experts in the fields of wine marketing and sales, consumer demand, direct sales strategies, wine club development, visitor attraction strategies, data analysis, technology innovation, customer journey mapping and much more.
The one-day conference will comprise four keynote presentations and 6 workshops presented in two concurrent sessions, plus a special presentation by Wine Australia outlining the findings of Australia's first Cellar Door & Direct to Consumer Wine Sales Report.  All delegates will receive a copy of the report at the conference.
An exhibition of leading Australian suppliers of DTC wine marketing and sales solutions will be on hand to provide advice and live demonstrations of relevant products and services.
WISA provides a platform for industry suppliers to add value, capability and competitiveness to the Australian wine and grape sector. As such, this conference provides an ideal opportunity to connect with relevant businesses and influential leaders, share knowledge and insights and cultivate valuable relationships.
---
Who Should Attend?
The content-rich program addresses the key challenges facing wineries, tourism operators and regional organisations in attracting, retaining and selling to visitors.  Importantly, exhibitors will provide hands-on demonstrations of products and services that will assist wine businesses in growing and improving their tourism offering, direct marketing and sales.  Practical workshop presentations followed by lively panel sessions will allow delegates to interact with presenters and ask key questions
The program will be of particular interest to:
Winery owners, cellar door managers and staff seeking strategies to increase sales through the development of compelling visitor experiences.
Wine club and direct sales managers wishing to develop customer acquisition and retention strategies that maximise sales.
Direct marketing and communications managers seeking to enhance their ROI on campaigns and understand how to analyse key data points.
Wine and tourism organisations responsible for improving industry capability and capacity.
Suppliers, consultants, agencies and other professionals who provide services for wine and tourism businesses.
Students and academics from tertiary programs specialising in wine business, wine marketing and tourism.
Check out the current business guest list here.
---
What Will You Learn?
Below is a summary of what delegates can expect:
Findings from Australia's first comprehensive DTC and Cellar Door Research initiative undertaken and presented by Wine Australia as part of its Market Insights program.
Practical tools and information that can be applied immediately to your business in the areas of cellar door management, wine club development, attracting visitors, customer conversion and retention, digital marketing and events.
Valuable industry insights into consumer preferences, global travel trends and DTC sales strategies presented by our keynote speakers.
Access to leading industry suppliers showcasing products and services to enhance your marketing, sales and cellar door experiences.
Networking with delegates, speakers, suppliers and exhibitors during workshop sessions and breaks.
Opportunity to observe cellar doors that demonstrate how to have a 'Direct Impact' on attracting visitors and retaining loyal customers on a post-conference tour. (Limited spaces available).
---
Program Overview
Download a PDF of the Summary Program here.
Keynote / Plenary Addresses
How the Future Wine Consumer Will Impact your Sales Targets (30 mins)
Keynote Speaker: Dr Violet Lazarevic, Endeavour Drinks Group
The future consumer has high expectations of the brands they connect with and expects you to know all about them.  Utilising innovative global examples, Violet will help the wine community understand how to meet the challenges presented by an increasingly savvy and constantly changing consumer base.
Australian DTC Wine Sales Report (15 mins)
Keynote Speaker: Peter Bailey, Wine Australia
Direct to consumer (DTC) wine sales are vitally important to the profitability of Australian wineries, and it all starts in the cellar door. Peter will present the results of Wine Australia's first comprehensive survey of winery DTC and Cellar Door sales channels and report how wineries can use the information to make informed business decisions.
Your Roadmap to Direct Wine Sales Success (45 mins)
Keynote Speaker: Sandra Hess, DTC Wine Workshops (USA)
How is consumer demand shaping the way winery producers leverage technology, talent and tools to remain competitive?  Recognised International expert Sandra Hess will share best practices, case studies and proven methodologies from wine producers across the US as it relates to direct wine sales and consumer engagement strategies.  
New Global Travel Trends & How They Will Impact Your Business (30mins)
Keynote Speaker: Charlotte Prouse, Destination Marketing Store
Fresh from the world's leading tourism thinktank, New York's SKIFT forum, Charlotte will share the latest consumer behaviour research and how you can apply these findings to your visitor attraction and retention strategies.
Why I'm so F---ing Excited About Wine Right Now! (30 mins)
Keynote Speaker: Dan Sims, Revel Global
You're just going to have to attend to know more about this one!
---
Morning Workshop Sessions Choice of 3 - 
WORKSHOP 1: "CLOSE ENCOUNTERS OF THE INNOVATIVE KIND" (Cellar Door)
Moderator: Sandra Hess, DTC Wine Workshops
Beyond the Tasting Bar: How to create and charge for memorable experiences (20 mins)
Speaker: Robin Shaw (Wine Tourism Australia)
People don't buy from Museums: The art of designing an interactive space (20 mins)
Speaker: Daniel Smedley (Studio S2 Architects)
Solving the New World Wine Puzzle (20 mins)
Speaker: Chester Osborn (d'Arenberg)
Facilitated Panel Discussion (30 mins)
WORKSHOP 2: "NOT THE USUAL SUSPECTS" (Visitor Experience)
  Moderator: Traci Ayris, Vislex Media Solutions
All that Glitters… Increase sales by defining your customer experience (20 mins)
Speaker: Dan Levy (More Space for Light)
The Visitor-Centric Approach – A wine region case study of success (20 mins)
Speaker: Charlotte Prouse (Destination Marketing Store)
Wow your International Visitors – A survival checklist for cellar doors (20 mins)
Speaker: Jing Cao (Chinese Language & Cultural Advice)
Facilitated Panel Discussion (30 mins)
WORKSHOP 3: "WINE-E" (Data Insights & Analytics)
Moderator: Dr Darren Oemcke, Hydra Consulting
Boost your marketing ROI by harnessing the hidden power of your data (20 mins)
Speaker: Stephanie Duboudin (Food & Wine Insights)
Understanding Connectivity & Con-currency: How to get more value from your e-commerce data (20 mins)
Speaker: Eamonn Egan (Cellar Link Marketplace)
'It's not the size of your data… it's how you use it!' (20 mins)
Speaker: Dan Sims (Revel Global)
Facilitated Panel Discussion (30 mins)
---
Afternoon Workshop Sessions Choice of 3 - 
WORKSHOP 4: "BEYOND THE BRICKS & MORTAR" (Customer Engagement)
Moderator: Kristy Carstairs, Tourism Australia
Top tips to engage customsers and sell experiences online. (20 mins)
Speaker: Michael Kelly (Rezdy)
Customer Connectivity - Avoid the unsubscribe! (20 mins)
Speaker: Maria De Conno (Fig Tree Digital)
You're being talked about! Find out what people are saying and how to respond (20 mins)
Speaker: Darren Oemcke (Hydra Consulting)
Facilitated Panel Discussion (30 mins)
WORKSHOP 5: "TERMS OF ENGAGEMENT" (Online Sales Strategies)
Moderator: Robin Shaw, Wine Tourism Australia
  Fans vs Followers: Why growing a tribe is essential to your brand (20 mins)
Speaker: Sam Davies (Digital Noir)
User experience, user choice clubs and the art of effective follow-up (20 mins)
Speaker: Chris Mulhallen (CRU)
How to leverage DTC data to build more effective sales strategies  (20 mins)
Speaker: Sandra Hess, DTC Wine Workshops
Facilitated Panel Discussion (30 mins)
WORKSHOP 6: "BACK TO THE FUTURE" (Interactive Marketing)
Moderator: Dr Marianna Sigala, University of South Australia
How to be like Apple (20 mins)
Speaker: Richard Owens (WithWine)
Yesterday's Future Tech Today – Integrating VR & AR into your tourism offering (20 mins)
Speaker: Laura Tolson (Lateral Vision)
Tech today and tomorrow - linking consumers to brands beyond the cellar door (20 mins)
Facilitated Panel Discussion (30 mins)
---
Post Conference Tour 19th October
A mystery Road Trip epitomising leading South Australian best practice wine region tourism destinations is open for bookings with less than 20 seats left. If you wish to participate in a hosted tour with behind the scene tours, Q&A and lunch included book today. Tours cost $135 per person including lunch, transport and site visits.
---
Accommodation
A limited number of special conference rate rooms at $155 per night including free WiFi has been negotiated for delegates at the Grand Chancellor Hotel, 65 Hindley Street, Adelaide. Book Here
---
Partnerships
Promote your business to our expected audience of over 200 cellar door, sales, marketing and general managers along with industry leaders and wine brand owners.
Download our partnership prospectus here. 
---
Ticketing
$495 WISA Supplier/Associate Member or $595 Non-Member
Become a WISA Supplier or Associate (Grape or Wine Producer) Member here to access the discount!
Group (3 or more from the same company) – Contact WISA on eo@wisa.org.au / M 0409 783 221 for an additional 10% bulk registration discount.
We have closed online bookings, there are a small number of additional registration slots available. Call WISA EO to arrange your registration (note full price of $595 applies)
Please register to our site to keep up to date of other opportunities!