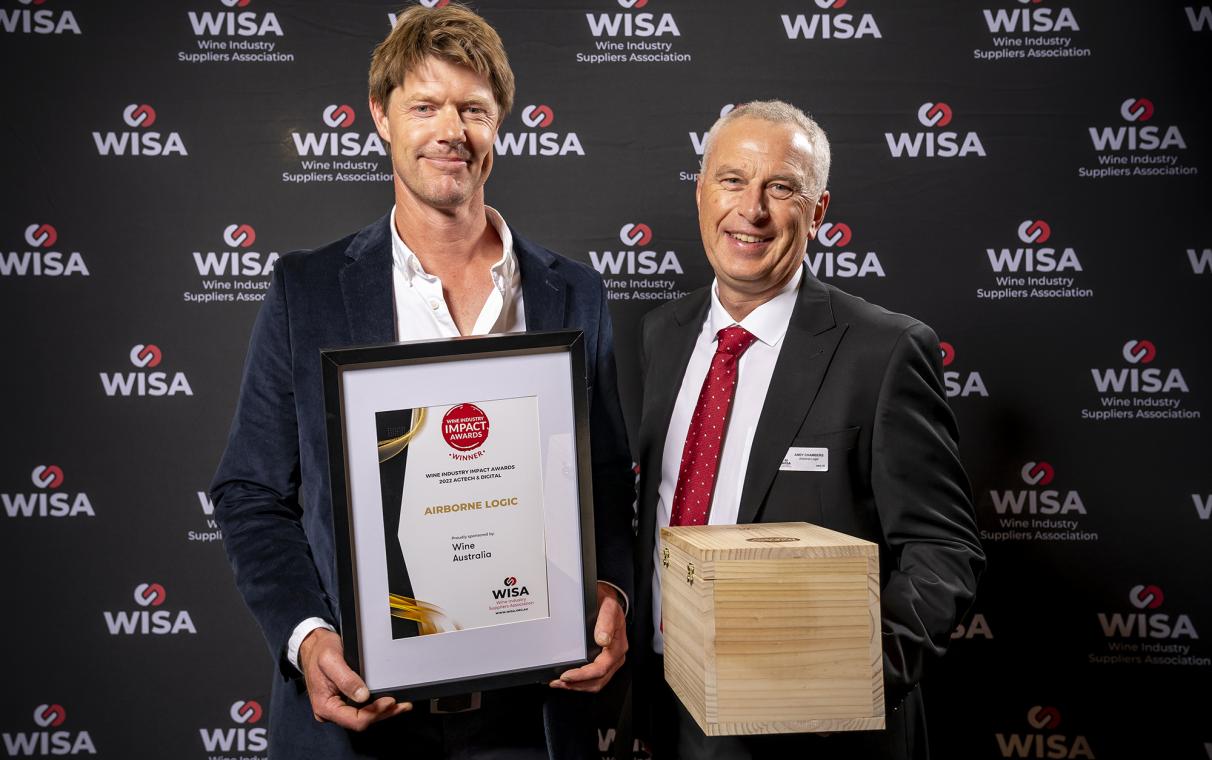 2022 WINE INDUSTRY IMPACT AWARD WINNERS SHOWCASING INNOVATION FOR SUSTAINABLE CHANGE
2022 WINE INDUSTRY IMPACT AWARDS
SHOWCASING INNOVATION FOR SUSTAINABLE CHANGE
2 December 2022                                                                                                             media release
Winners announced at the 2022 Wine Industry IMPACT Awards (WIIA), presented by WISA – Wine Industry Suppliers Association Inc, at sparkling gala to over 400 industry stakeholders
WINE INDUSTRY IMPACT AWARDS 2022
| | | | |
| --- | --- | --- | --- |
| Category | Sponsored By | WINNER | Runner Up |
| Sustainability | Green Industries SA | Blue H2O/BHF Technologies | Seeley International |
| Packaging & Design | Endeavour Drinks Group | Orora Glass | Denomination Design |
| Wine Tourism & Marketing | Wine Victoria | Tradewindow | Launchy.io |
| Viticulture & Grapegrowing |   | AWG – Infield Fruit Sorter | Ocvitti |
| Agtech & Digital | Wine Australia | Airborne Logic | Onside |
| Engineering & Equipment | Pernod Ricard Winemakers | PTI Pacific | Burkert Fluid Control Systems |
| Winemaking & Oenology | Stanton & Stanton Lawyers | Seguin Moreau | Blue H2O/BHF |
Media Partner Winetitles Media.  Print partner Bowden Print
We congratulate the winners and runners up for each category and all finalists in this years awards.  Further information on judges remarks and winners innovations, available at the end of this document.
The Wine Industry IMPACT Awards Gala Dinner
A dazzling night was enjoyed by over 400 wine industry stakeholders at Adelaide Oval on Wednesday night, 30 November.  MC Lucy Clements of Vintellect, held court while supported by Shirley Fraser, WISA Executive Officer.  The Hon. Minister Clare Scriven addressed the crowd on the importance of the wine sector and the support and pride coming from government in its endeavours.
Photographs courtesy of Darren Clements will be available on WISA Facebook page or by request.
https://www.facebook.com/media/set/?set=a.2420919871391893&type=3
"The whole-of-sector event was a celebration in spite of the challenges facing us an industry right now.  How we, as a collective industry, support each other in our search for ways of doing things better." WISA Executive Officer Shirley Fraser said.   
WISA Chair, Jason Amos added "The awards program highlights where progress happens in creating new opportunities to articulate the innovative solutions that are happening and how their practical adoption can help with efficiency, sustainability, quality, recovery, risk mitigation, brand development, safety and more.  Acknowledging businesses rather than individuals or wines or vines."
2022 FINALISTS INCLUDED:
·         CCL Label
·         ICAS-HITE Australasia Pty Ltd
·         BioScout
·         VinPost
·         Ocvitti Pty Ltd
·         EBottli
·         MyEnergy Engineering
·         Onside Pty Ltd
·         Launchy
·         Orora Pty Ltd
·         Studio S2 Architects
·         Blue H2O Filtration (BHF)
·         Complexica
·         Packamama (Delivering Happiness International Pty Ltd)
·         Vine Scout - (Gumpara Wines)
·         Orora Glass
·         Winely
·         Aussie Wine Group (AWG Infield Grape Sorters)
·         TilliT Pty Ltd
·         PTI Pacific Pty Ltd
·         Pall Corporation
·         Seeley International
·         TradeWindow
·         OneCircle
·         Stanton & Stanton
·         Denomination
·         Guala Closures
·         Burkert Fluid Control Systems
·         Foss
·         Seguin Moreau
·         Airborne Logic
 WISA - champions of wine supply chain.
CONNECT | COMMUNICATE | CULTIVATE | ADVOCATE
WISA Media Contacts:
Shirley Fraser WISA Executive Officer            +61 449 704 409               eo@wisa.org.au.          
Jason Amos     WISA Chair                                                                               chair@wisa.org.au                    
WISA website                                                                                                       www.wisa.org.au
WISA Linkedin https://www.linkedin.com/company/wine-industry-suppliers-australia-inc
Ends.