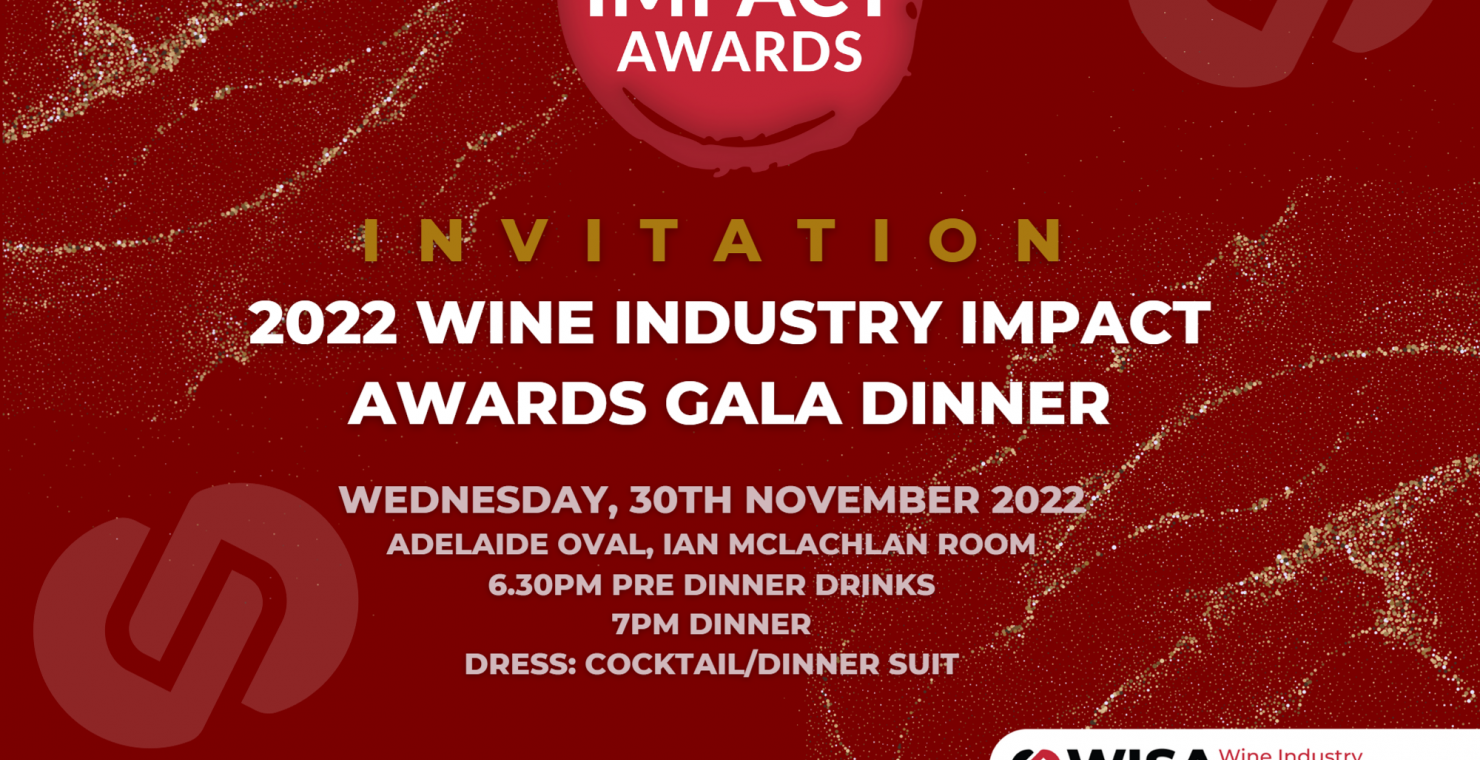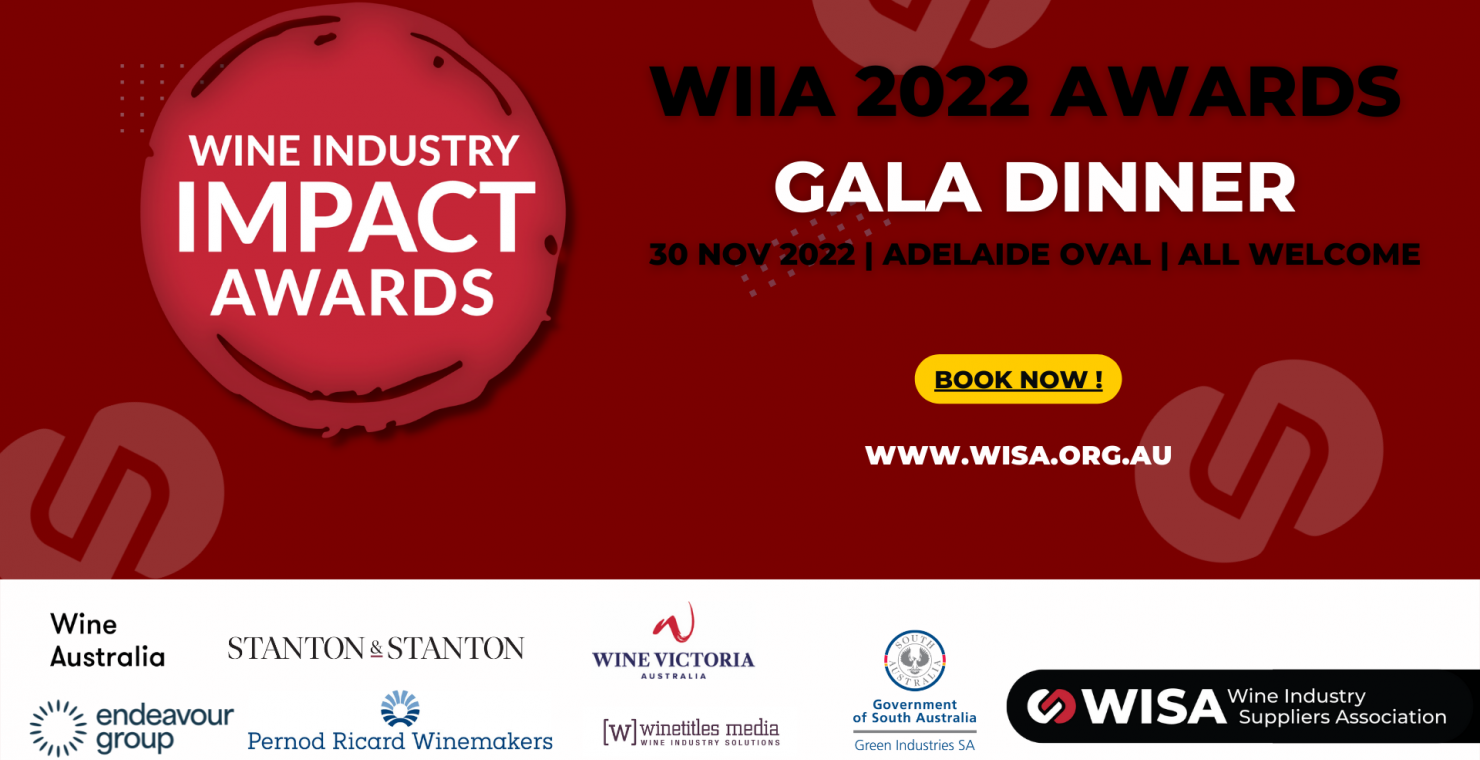 2022 WINE INDUSTRY IMPACT AWARDS SHOWCASING INNOVATION FOR SUSTAINABLE CHANGE
2022 WINE INDUSTRY IMPACT AWARDS
SHOWCASING INNOVATION FOR SUSTAINABLE CHANGE
3 November 2022                                                                                                             media release
Winners to be announced at the 2022 Wine Industry IMPACT Awards (WIIA), presented by WISA – Wine Industry Suppliers Association Inc, are currently being decided.
"We have been thrilled to see the diversity of entries, for segments across the wine sector.  It was a challenging time after covid, with business in full travel mode, managing restricted staffing and increased workloads.  The effort taken by members entering was duly appreciated.  With emphasis on efficiency and optimising grape and wine production and sales, the highlight has been the sustainability focus common throughout many submissions." WISA Executive Officer Shirley Fraser said.   
WISA Chair, Jason Amos added "the opportunity to showcase projects for how our members have made impact to the sector is a key element of the awards, beyond being a winner or finalist."
2022 FINALISTS:
·        CCL Label
·        ICAS-HITE Australasia Pty Ltd
·        BioScout
·        VinPost
·        Ocvitti Pty Ltd
·        eBottli
·        MyEnergy Engineering
·        Onside Pty Ltd
·        Launchy
·        Orora Pty Ltd
·        Studio S2 Architects
·        Blue H2O Filtration (BHF)
·        Complexica
·        Packamama (Delivering Happiness International Pty Ltd)
·        Vine Scout - (Gumpara Wines)
·        Orora Glass
·        Winely
·        Aussie Wine Group (AWG Infield Grape Sorters)
·        TilliT Pty Ltd
·        PTI Pacific Pty Ltd
·        Pall Corporation
·        Seeley International
·        TradeWindow
·        OneCircle
·        Stanton & Stanton
·        Denomination
·        Guala Closures
·        Burkert Fluid Control Systems
·        Foss
·        Seguin Moreau
·        Airborne Logic
MEET THE JUDGES:
Four panels of experts across the industry are critically reviewing the submissions.
Panel 1 – Sustainability
Aubrey Thomas of Green Industries SA (sponsor), Julian Marchant of Edge Environment, Mardi Longbottom of Sustainable Winegrowing Australia/AWRI, Rachel Triggs of Wine Australia.
Panel 2 – Packaging & Design / Marketing & Wine Tourism
Sarah McElholum of Endeavour Drinks Group (sponsor), Stephanie Duboudin of Wine Victoria (sponsor), Lynda Schenk of Purple Giraffe, Roger Dowling of Burge Barossa.
Panel 3 – Viticulture / Agtech & Digital
Dave Gerner of Wine Australia (sponsor), Daniel Polson of Adama/WISA, Nigel Squires of Nutrien Ag, Nigel Blieschke of Torbrek Wines.
Panel 4 – Engineering & Equipment / Winemaking & Oenology
Steven Scott of Pernod Ricard Winemakers (sponsor)/WISA, Kenneth Stanton of Stanton & Stanton (sponsor), Jason Spiteri of Hill Smith Estate, John Kontrec of Accolade and Eric Wilkes of Affinity Labs/AWRI/WISA.
CELEBRATE WITH INDUSTRY
Limited Tickets are still available for the WIIA Gala Awards Dinner to enjoy a 3-course meal, paired wines from across Australia.
Venue: Adelaide Oval, Ian McLachlan Room.
Date: Wednesday 30 November 2022.  6.30pm pre-dinner for 7pm dinner.
Dress: Cocktail/Lounge Suit (not black tie)
MC: Lucy Clements of Vintellect.  
Band: Jessica Biggs Trio
Table 10 - $1750 members | $2550 non-members
($800 discount or become a member for $800)
Single Tickets $200 members | $295 non-members.
https://www.wisa.org.au/events/wine-industry-impact-awards-2022-awards-gala-dinner-single-ticket
Over 300 wine industry leaders, suppliers, finalists, sponsors, regional representatives, stakeholders, and guests are expected to attend the formal gala event offering Australia's (and beyond) wine sector a chance to network and celebrate prior to the festive season (and vintage 2023) with their team and peers.
SUPPORTED BY SPONSORS
1.        Viticulture                                                                               
2.       Winemaking                                                    Awarded by Stanton & Stanton
3.       Engineering & Equipment                              Awarded by Pernod Ricard
4.      Agtech/Digital (previously start up)                Awarded by Wine Australia
5.       Packaging & Design                                       Awarded by Endeavour Group
6.      Marketing & Wine Tourism                            Awarded by Wine Victoria
7.       Sustainability                                                 Awarded by Green Industries SA
WISA Members support: Media Partner Winetitles, Print Partner Bowden Print.
The generous support by sponsors goes beyond award sponsorship as it demonstrates the engagement of the supply chain in further connection with industry, retail, government, corporate services and producers. 
It is vital we continue to encourage, recognise and be aware of, the innovative work being undertaken by supplier businesses.  The Awards bring the industry together with practical and commercialised solutions to make impact during these challenging times.  Now more than ever, we need leadership, industry stewardship, and new ways of thinking.
WISA - champions of wine supply chain.
CONNECT | COMMUNICATE | CULTIVATE | ADVOCATE
WISA Media Contacts:
Shirley Fraser WISA Executive Officer            +61 449 704 409               eo@wisa.org.au.          
Jason Amos     WISA Chair                                                                               chair@wisa.org.au                    
Ellie Roberts    WISA Administration                                                            admin@wisa.org.au
WISA website                                                                                                       www.wisa.org.au
WISA Linkedin https://www.linkedin.com/company/wine-industry-suppliers-australia-inc
Ends.