Fiera Group Australia
Combating Winery Black Mold without Chemicals and Poisons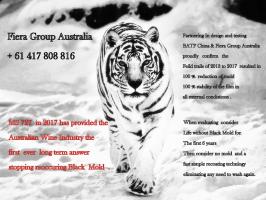 Javascript is required to view this map.
17 Falie Drive
NORTH HAVEN
,
SA
,
5018
Australia
View Map
About Us
Gerald Asbroek is an experienced building maintenance professional, maintaining a vast array of structures operated by Australia's largest winemaking group for the first 19 years of his working life.
Spending almost 2 decades designing and constructing winemaking operations he assisted in bringing 74 modern wineries throughout Australia and the world come to life.
Some of his milestones were taking Australia to France in the form of modular winery designs, built supplied and shipped to France. He lead a hard-working team of men from Australia along with placing his trust in Australian companies such as Ahrens, BHP, James Contracting, Teralba many fellow Australian companies demonstrated what Australia was prepared to do in a historical winemaking region in France.
The structural collapse at Wirra Wirra provided another challenge that drove him to save and rebuild the legacy of the Potts Family in Mclaren Vale.
His dedication and unwavering need to answer the hard questions has seen him enjoy many of the changes he brought to the industry. With a sound trade background in electrical engineering, life in the Australian wine industry and travel provided the rest, self-accomplished and always humble saw Fiera Group Australia rise in 2013 to again provide another challenging moment.
In collaboration with BATF China a new era has begun where Australian Engineering and innovation can be shared with the world. We are leading the change in the way our industry addresses Black Mold on buildings and tanks farms. We are reducing costs and environmental impacts to provide long-term clean surfaces on winery infrastructure that are typically faced with Black Mold.